Here is a Sneak Preview of AngelHeadbands.com's Bow Making Instruction Book! If you've always wanted to learn how to make your own bows and headbands for your babies and girls, this is the book for you!  Enjoy this free tutorial!
This style of bow making is very popular for boutique style hair bows.  Using different widths and types of ribbon makes each bow so unique, you'll love seeing what you can create!
Materials Needed: Ribbon, floral wire, wire cutters, flat nosed pliers, scissors, fray check.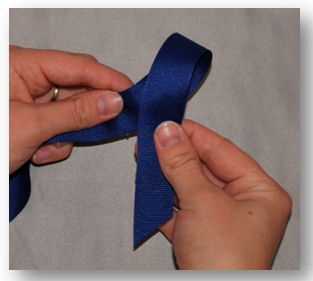 Step One: Begin by holding the tail of ribbon in one hand while forming a loop behind this tail with your other hand, as shown in the picture.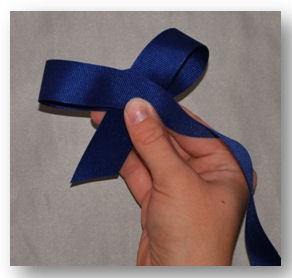 Step Two: While holding the first loop firmly in place between your thumb and index finger, make a loop that is the same size as the first by crossing the ribbon back over the section that you are holding. Now hold both loops in place as shown. You can adjust the size of both loops or the angles made by the ribbon at this point to achieve the look that you want. These two loops will be the top loops of your finished bow.
Step Three: Make the third loop of this bow by folding the ribbon around the back of the bow and grasp it under the other layers already in place.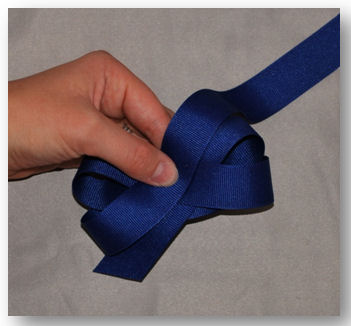 Step Four: Complete the loops of this tails up bow by bringing the tail of the ribbon back to the front and crossing it directly over the middle, as shown. Hold all the layers of ribbon tightly together and scrutinize your bow to make sure that all four of the loops are the same size and lie symmetrically around the center of the bow.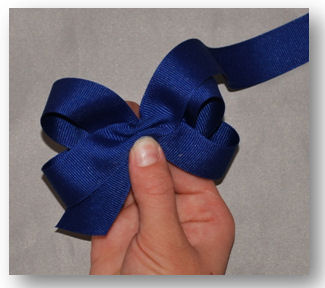 Step Five: While holding the center of the bow firmly, use both hands to fold and scrunch the layers until several creases are made, as shown.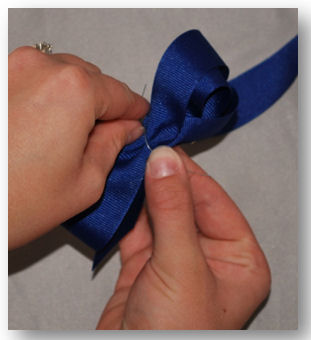 Step Six: Use a length of floral wire to tie the center tightly, while carefully holding the ribbon and folds in place. This can be tricky! Don't get discouraged if it takes you a lot of practice to get this part down.
Twist the wire on the back side of the bow to cinch it tightly around all of the layers of ribbon. Cut the excess wire off using your wire cutters.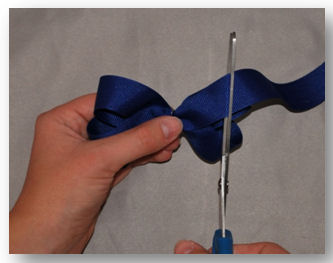 Step Seven: Cut the end of the ribbon using sharp fabric scissors.
Congratulations! Your Tails Up bow is complete!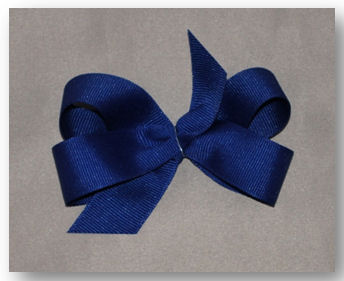 We hope you've enjoyed this sneak peek into our Baby Bow Making Instruction Book!  If you like what you see here, but want even more details, styles, and step by step instructions, visit www.AngelHeadbands.com to purchase the whole book at a big discount!