Do you want to make Baby Bows & Headbands?
Have you always wanted to make your own hair bows for your little girl? Maybe she has that special outfit that you just can't find accessories for, or perhaps you sew her dresses yourself and want to be able to match her hair bows to her gowns.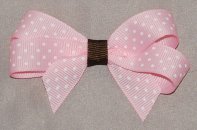 Making headbands and hair bows can be a fulfilling hobby, and your baby girl will be the belle of the ball. Don't be surprised if all your friends start asking where they can get hair bows for their little princesses!
Maybe you would like to start a whole new hobby! Infant hair bands have an ever increasing market, as parents love to show off their children. You can easily begin making headbands and hair bows from your home to use as gifts with our baby hair bows instructions and free baby headbands monthly newsletter!

Finding recipients for baby headbands is so easy. Babies are born every day, and it is just a matter of letting people know you are offering this product! Baby and children's items almost give themselves away. Nearly every advertisement for infant photos shows babies adorned with lovely handmade headbands or hair bows and parents will be looking for ones to match their little girl's every outfit.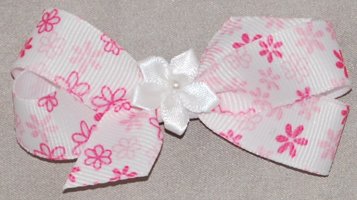 So now you are wondering how to get started. It's so simple! Just ask for the free hairbow instructions and we can show you how to start making these beautiful creations from the comfort of your own home. You can find all the supplies you need to make these in demand items at your local craft or fabric store, and the possibilities are endless! Best of all, materials to make headbands and hair bows are so inexpensive that you can easily afford them.
Once you receive your easy hair bows free instructions and complete your first projects, you can let your imagination take off. Our eBook is now available to show you even more ways to make adorable headbands and bows! Once you have started to pass your creations around, word of mouth will kick in and you will have the excuse you need to spend as much time as you want on your new activity.
You are sure to enjoy our free monthly newsletter that has even more ideas and helpful tips. Each issue comes with a baby headband tip of the month. News about all of our new and featured products will be included, with coupons for discounts and free shipping. Blog links will be included so you can find out what's happening in baby-land, and you can have yourself a chuckle at each month's featured Funny Baby Story!
Infant headbands are easy and inexpensive to make, and our boutique hair bow instructions show you exactly how to make a high quality bow that is sure to be in high demand! You can easily upgrade from our free instructions to our in depth instruction eBook as you move past beginner stage and get ready to try more complicated projects.

Sign up today for our monthly newsletter, and receive our free hair bow instructions! If you have been looking for a fun easy hobby that has a million different possibilities, or just want to make your own bows as gifts for friends and family, our newsletter and simple hair bow instructions will help you to achieve your goals!
Hair Bows -- Free Instructions
Signup for our

Free Hair bow Instructions

newsletter and get free hair bow directions each month. You will also get coupons for free shipping and discounts off our products.

Whether you are a new mom to a sweet little baby girl who wants to learn how to make baby bows for your infant, or a person looking to start up your own successful bow making business, this is the book you need! Colorful pictures and excellent explanations and instructions make this How To booklet an essential part of your bow making success.

This Instruction book outlines everything you need to know in great detail so you can easily follow the directions to make baby headband bows and accessories. In this book you will learn what tools and materials you will need before you can begin making baby bows, and then you will find step by step directions for making a variety of bows and headbands. Learn to make every style of bow from simple grosgrain baby bows to intricate and classy bows for bigger girls.

Following the bow making instructions is easy, as every step is illustrated by a full color photo and easy to understand explanations. In no time you will master the art of making baby bows if you learn using this instructional booklet. The instructions include How to make korker bows (corker), childrens hair bows, cheer leading hairbows.

Once you have all of the essential techniques down you will then learn exclusive tricks of the trade so you will be able to make top-quality professional hairbows in your own home.

Adorn your baby girl with beautifully handmade accessories, or learn the bow making skills you need to launch your own bow business, selling gorgeous hand crafted headbands and bows to family, friends, online or in stores.

Once you have mastered the techniques described and pictured in this instructional booklet you will be ready to let your creativity run wild so you can make custom bows for your baby, friends or clientele.

Available online exclusively to Angel Headbands customers, enjoy the convenience of instant access to this invaluable information, and the affordability of the book that has free shipping and everything you need to know to be able to make your own hairbows and head bands.

Don't pass up this amazing opportunity to learn all of the bow making skills that you need to keep your little girl beautifully accessorized for any occasion, or to enhance your skills for your bow business success and Best of All Free Shipping.

See the baby bow instructions book