Making Every Baby an Angel Baby
Infant Headbands, baby hair bows
Our Baby Bow Instructions Book -- Learn to make baby bows yourself. 85+pages 130+pictures

Baby girls were made to be beautiful, and what better way to accent their adorable little faces than with an infant headband or baby sized hair bow. Available in numerous colors, styles and sizes you are sure to find a head band or bow that will perfectly match your baby's favorite outfits. You can even request custom hair bows by choosing from our many available colors and styles for the same amazing price.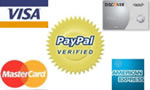 Appropriate for any occasion, baby headbands are comfortable for your baby to wear on a daily basis so she will be stylin' when out shopping, adorable for playdates, and beautiful for special occasions and parties.
We accept Credit Cards and Paypal. These infant headbands and bows grow with your baby too. Many of our available styles have interchangeable bows clipped onto the headband. When your baby outgrows that size of headband you can simply get a bigger size and clip the bows in place. When your baby girl becomes a toddler with a full head of hair you can use the bows directly in her hair without a headband so she always has the perfect accessories.
Make your baby the center of attention with sweet baby bows and headbands, handmade carefully just for your baby.
Some of Our Happy Customers and Partners

Also see our sites for: Modest Wedding Dresses, Gowns, and Boy Tuxes and Dried Home Decor